Quebec is known for its incredible weather and locales, and if you are here on a break with your family, experiencing life at a farm is something you cannot miss. Verger Champêtre is an orchard, which also doubles up as a petting zoo and an interpretation center. Located in Granby, Quebec, Verger Champêtre is a unique place, founded by owners Thérèse and Mario. The owners have designed the place as a destination for activité familiale estrie. In this post, we are reviewing the place with tips on how you can enjoy better.
What to experience at Verger Champêtre?
Verger Champêtre is a nice orchard in Quebec, away from maddening city crowds. The orchard spreads on 250 acres of land, and there are nice trails all along the way. You will find numerous varieties of apple, pear, plum, cherry trees in different parts of the orchard, while vegetable gardens are also scattered along the way. Guests here get the chance to pick fruits from July, starting with cherries in Mid-July, followed by plums and pears in August. Squash and apples can be seen on trees until fall. Verger Champêtre offers the ultimate apple picking experience in fall, and it's rather a delight to enjoy this with the entire family.
More than just an orchard
Verger Champêtre also has amazing petting zoos, with close to 250 animals that are raised right at the farm. Every year, new babies are added to the list. From goats, sheep and peacocks to miniature horses, rabbits, chickens and alpacas – the list is considerably long. The orchard also offers the experience of walking with their animals, and these animals are extremely friendly with kids. You can also book a walk with an alpaca or miniature for good twenty minutes for a stroll in the orchard. Verger Champêtre has its own café, where you can experience homemade food, right from lasagna,  sausage pizza, to chicken pot pie and ham quiche- everything made with love.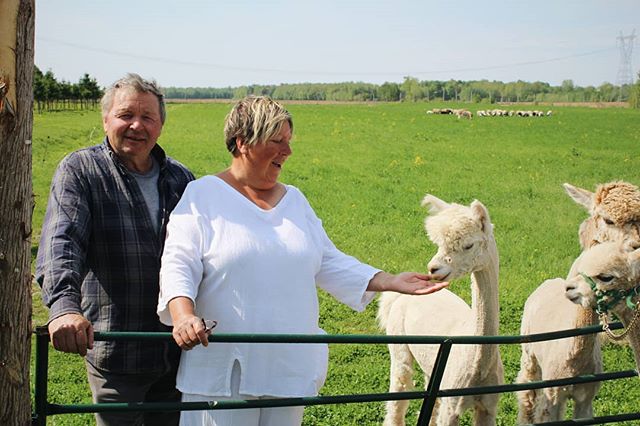 Book your stay
Verger Champêtre welcomes guests for stay at their cottage, which offers a good experience of simple life at the farm. Make sure that you book in advance, and they are usually fully booked from summer to fall, while from winter and spring they are closed for stay and visits. We liked the reception and love at this orchard, which promises to become an offbeat point of attraction for those visiting Quebec.